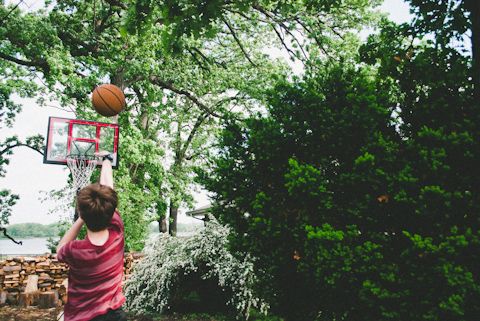 drew loves basketball.
loves it.
when he first started out as a little ten year old player, it was a funny sight. he ran on the outskirts of the court, he didn't care to have the ball passed his way, and free throws were a hit or (usually) miss. today, the boy (well i should say
young man
) can't get enough of basketball! every single day he is outside practicing shooting. the previously very low basketball hoop has been raised to the standard ten feet, and a free throw line has been marked at the standard fifteen foot distance. when on a family walk, drew brings along his ball and dribbles it the entire walk -- complaints arise about that every now and again by his sisters. and to conclude this little rant about drew loving basketball, here -- after losing an extremely close, extremely intense game, mom asked him if he was disappointed at the loss. he cheerily told mom, "no, i just love this game!"
there. drew love basketball.
moral of this post: work hard at what you love to do. do what you love to do. pursue those dreams of yours!